WrestlingHavoc.RU >> WWE PPV >> WWE Elimination Chamber 2014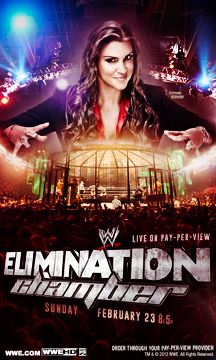 Kick-Off Show Match
Cody Rhodes & Goldust vs. Ryback & Curtis Axel w/ Larry "The Axe" Hennig

Довольно резвый матч имени Коди. Голди выглядел уставшим, Райбак и Кёртис показали базу. Ботчей замечено не было. 5.5/10

Intercontinental Championship Match
Big E (Champion) vs. Jack Swagger w/ Zeb Colter

Матч средний во всех отношениях. Суэггер старается, Биг И за ним не успевает. 5/10


WWE Tag Team Championship Match
The New Age Outlaws (Champions) vs. The Usos

Очень плохой матч не достойный ППВ, как и нынешние командные чемпионы. Усо не старались, чемпионы уже не могут. 3/10

Darren Young vs. Titus O'Neil

Что это было? Вот что??? Для чего им сделали минуту славы? Зрители уходили, наверно, в туалет или за пивом, тв база, что была показана на ринге им совсем не интересна, как и мне. 0.5/10


The Shield vs. The Wyatt Family

А вот тут совсем хорошо. Прекрасный матч, всё сделано отлично и эмоции и постановка. Я за Рейнса по настоящему испугался, когда н на ринге один остался. Молодцы! 8.5/10

Divas Championship Match
AJ Lee w/ Tamina Snuka vs. Cameron

Я не могу никак прокомментировать этот обрубок. 0/10

Batista vs. Alberto Del Rio

Одним словом - скучно. АДР что то пытается сделать Батиста - тормозит по полной. 4/10


Elimination Chamber Match for the WWE World Heavyweight Championship
Randy Orton (Champion) vs. John Cena vs. Daniel Bryan vs. Christian vs. Sheamus vs. Antonio Cesaro

А вот тут хорошо, все постарались, правда победитель был и так понятен, но матч все сделали на хорошо. 7.5/10

И резюме:
Проходное шоу. Два матча на ОК, остальное не смотрите, не тратьте своё время.

---
[24/02/14 15:53] - Makc the Butcher / версия для печати